Getting drivers out on the race track in a low cost controlled formula racing the Hyundai Excel X3 1.5 16v.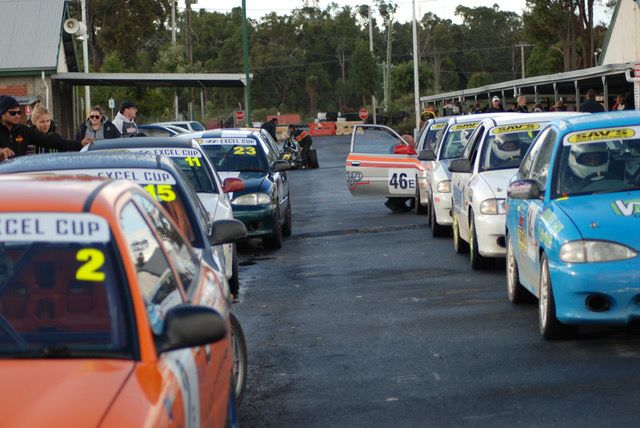 WA Excel Cup, racing Hyundai Excels out of Barbagallo Raceway in Perth. Low cost close racing series aimed at getting drivers out on the track.
Committee
President: Mark Jewell ( 0411 497 111 )
Vice President: Les Sharpe ( 0408 860 132 )
Secretary: Joe Douglas ( 0429 303 100 )
Treasurer: Lisa Grainger
Local Category Representative: Rob Landsmeer
Social Media Coordinator: Tanya Aitken
General Committee Members
Terry Hill
Steve McGregor
Brad McNess
Darren Seaton
Affiliations

Follow us on Facebook, for the latest info!
Excel racing in WA has got off to a roaring start with a record 29 entrants in our first race of the year at Wanneroo Raceway. With this great start to the year, having also now completed our first 3 rounds and the ever-improving COVID-19 situation in Australia WA Excel Cup are looking forward to the 2021 season which includes our Invitational Enduro Event and the 2021 Excel Nationals.
WA Excel Cup, in Conjunction with CERA and the WASCC are happy to confirm the Excel Nationals are planned for 15-17 October 2021 at Wanneroo Raceway.
All members of the Excel Racing community are invited to download the info pack and for those who are wishing to make the trip west to compete please respond with your Expression of Interest to excelnationals2021@gmail.com which will assist WA Excel Cup, CERA and the WASCC with event planning.

Driver Profiles
Our driver profiles will be up soon!


Join the Club
Registration Info
It's easy to get involved. Download and fill in the membership application form below
Also, be sure to read the club and motorsport Australia documents linked below.

Motorsport Australia Documents